S8VK-G
Das richtige Netzteil für Ihre Anwendung
Das S8VK-G ist in zahlreichen Modellvarianten erhältlich (von 15 W bis 480 W), bei sehr kompakter Bauform. Es ist um 13 % kleiner als vergleichbare Netzteile und damit das kleinste Produkt seiner Art.
Großer Betriebstemperaturbereich (-40 bis +70 °C) für zuverlässige Betriebssicherheit
Doppelte Ausführung der DC-Ausgangsklemmen (drei Minusklemmen) für einfache Anschlüsse
Hoher Wirkungsgrad (90 %) für verringerten Energieverbrauch
Leistungsreservefunktion (120 %)
Verbesserte Klemme für die Hutschienenmontage für höhere Vibrationsfestigkeit und einfache Installation
Spezifikationen & Bestellinfo
Ordering information
100 to 240 VAC

Allowable range:
85 to 264 VAC,
90 to 350 VDC,
2 phases less than 240 VAC
Specifications
3.0% max. (5 V), 2.0% max. (12 V), 1.5% max. (24, 48 V), at 0% to 100% load

UL: UL 508 (Listing), UL 60950-1, cUL: CSA C22.2 No. 107.1 and No. 60950-1,
UL 1310 Class 2 output for 15 W, 30 W, 60 W
EN/VDE: EN 50178 (=VDE0160), EN 60950-1 (=VDE0805),
Lloyd's Register

SELV (EN 60950-1/EN 50178/UL 60950-1), PELV(EN 60204-1,EN 50178),
Safety of power transformers (EN 61558-2-16), EN 50274 for terminal parts
Wie können wir Ihnen helfen?
Wenn Sie eine Frage haben oder ein Angebot anfordern möchten, kontaktieren Sie uns oder senden Sie eine Anfrage.
+49 (0)21 73 - 68 00 0
Kontaktieren Sie uns
Ihr Kontakt S8VK-G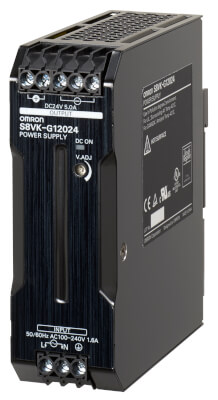 Vielen Dank für Ihre Anfrage. Wir setzen uns umgehend mit Ihnen in Verbindung.
Es liegen zur Zeit technische Probleme vor. Ihre Übertragung war nicht erfolgreich. Entschuldigen Sie dies bitte und versuchen es später noch einmal. Details
Download
Angebot anfordern
Angebot anfordern
Angebot für S8VK-G
Über dieses Formular erhalten Sie ein Angebot zu Ihrem ausgewählten Produkt. Bitte füllen Sie alle Felder aus, die diese * Markierung besitzen. Ihre persönlichen Daten werden natürlich vertraulich behandelt.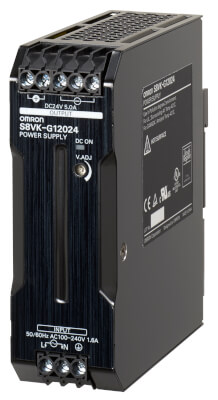 Vielen Dank für Ihre Angebots-Anfrage, die wir schnellstmöglich beantworten werden.
Es liegen zur Zeit technische Probleme vor. Ihre Übertragung war nicht erfolgreich. Entschuldigen Sie dies bitte und versuchen es später noch einmal. Details
Download
Videos
Component Focus: Omron Wireless Buttons
I'm Josh Bishop for cooling. It takes a wide voltage input from 100 to 240 volts AC and accepts either 50 or 60 Hertz. You can connect the incoming power here at the bottom with line, neutral and ground inputs. This particular power supply outputs the 24 volt DC power at the top with these terminal blocks and can provide up to 15 watts which is ample power for this wireless receiver or many other devices. There are other S8V caged power supplies that can output more power, but this works great in this case. The S8VK is providing power to this wireless receiver the A2W-RPC- WC1. This receiver is very straightforward to use with clearly marked ports and switches and common sense usage. This has eight outputs and accordingly can be synced with eight wireless buttons. You can see the power input up at the top and the outputs here at the bottom. There are lights for power, any potential errors and receipt of signals right here. There's also a slide switch for usage testing and setup. You'll note that this is 922.5 megahertz which gives it a greater range and better signal propagation than higher frequency signals. We end up with the communication assistance of about 100 meters without any obstructions. Finally we have the two push-button switches. They're obviously both wireless and they generate their own power so no battery is required. This also eliminates the need for maintenance. A light comes on when you click the button showing that it has been actuated and is working. They come with the space to allow you to easily mount them and swap them around as you need. The buttons are functionally the same, but you have the option of different types of plungers depending on what works best in your situation. They're both ULl certified, rated up to 1 million operations and are IP65 sealed. They're also shock and vibration resistant making them ideal for tough industrial application. All of this is connected and powered up. It is not set up and I'll walk you through the process just to show you how easy it is for you. You'll need to connect the S8VK to power. Again it can use power from practically anywhere in the world. Then hook the output of the power supply to the input of the wireless receiver and now everything will turn on and you'll be up to the point where I am currently. Programming the buttons and the receiver doesn't require anything external like a computer, you simply set the rotary switch to the channel you want to use, move the slide switch to ID and then click the button you want to use, 3 times relatively quickly. You'll see the receive light come on indicating that the receiver got the message and it has been paired. Switch to another channel do the same thing with the other button. That's it! It's recommended to make certain other systems in the area are not in use during this procedure, however, as it may cause problems. Let's move the slider switch to run and start clicking these buttons and watch those different indicators light up. Now deleting the buttons and reassigning them is just as easy; put the rotary switched to delete and click the button three times until the light comes on. The button is now unassigned and can be programmed to another output slot. With just a few components in a couple minutes of setup you can easily integrate Omron's wireless buttons into your systems. if you want to learn more or purchase these Omron components go to Features: - 8 pushbuttons can be assigned to one receiver unit - Each receiver has 8 transistor outputs (one-shot operation) - A pushbutton can be assigned to multiple outputs of a receiver - Wireless communication is confirmed with a colored LED indicator on the pushbuttons - 922.5MHz frequency band reduces interference, providing a better signal in locations with obstacles - A high-sensitivity magnetic-base antenna is an option when installing the receiver inside a control panel